Practice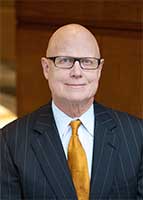 As one of Farmer Brownstein Jaeger's founders, "Buck" Farmer brings great depth of experience to the firm's focused approach to representing its clients in antitrust, white collar criminal investigations, and other litigation matters. For more than 20 years Buck has represented individuals and companies in criminal and civil antitrust matters, as well as in other complex business disputes. Before entering private practice, Buck was, for nearly 20 years, a U.S. Department of Justice prosecutor, having been Assistant Chief of the Department of Justice Antitrust Division Office in San Francisco and an Assistant U.S. Attorney assigned to handle complex conspiracy cases involving securities, business fraud, and tax evasion claims. His experience in federal criminal and antitrust litigation, combined with private representation of companies and executives, allows us to bring a uniquely focused and expert approach to our clients' needs from the outset. Many of our representations come by way of referrals from larger corporate firms which recognize an executive's need for separate counsel or which need to refer a matter to another firm because of a conflict, or because conduct within a client company requires investigation by an outside independent firm. Buck has led internal investigations on behalf of boards of directors and has advised and represented executives in securities, antitrust and other matter having potential criminal implications. In recent years, Buck has represented numerous executives in connection with antitrust and other grand jury and regulatory investigations.
Our firm strives to head off any prosecution or litigation early in the investigation, but if an acceptable quiet disposition cannot be achieved, we have a wealth of jury trial experience and do not hesitate to pursue a vigorous defense.
Buck has been named a Super Lawyer each year since 2007 in the field of antitrust litigation as a result of an independent peer review process. He was also selected as a 2013 Top Rated Lawyer in commercial litigation by American Lawyer Media and the Martindale-Hubbell attorney rating organization.
Representative Engagements and Experience
Private Practice
Separate counsel to more than two dozen individual executives based in the U.S., Europe and Asia, in connection with U.S. Department of Justice investigations and prosecutions of companies in various industries, including the following:
Liquid Crystal Displays and Cathode Ray Tube screens used in TVs and computers;
International shipping by certain air and ocean transportation companies;
Manufacture and sale of various auto parts sold to major automobile manufacturers in the U.S. and abroad (over a dozen individual clients from different companies in different auto parts manufacturing markets);
Manufacture and sale of certain high power distribution products;
Agricultural product processing by major food product company;
Representation of Taiwanese computer chip manufacturing company in US DOJ Grand Jury investigation of suspected cartel behavior and in complex class action litigation brought by direct and indirect purchasers as well as by the attorneys general of some 40 states;
Representation of Japanese executive of large international bank in connection with U.S. Grand Jury and Commodities Futures Trading Commission investigations of certain international banking practices;
Representation of executive in Grand Jury and SEC investigation of graphics processor manufacturing company in connection with allegations of insider trading;
Retained as separate counsel for certain employees during internal investigation and SEC proceedings relating to the sale of securities of memory chip manufacturing company;
Represented telecommunications company in grand jury investigation of certain sales made to international communications company involving classified military products;
Represented larges telecom company during Antitrust Division investigation of acquisition of another company involved in the manufacture of certain high tech optical fiber technology products;
Lead trial counsel in jury trial of Optical Coating Laboratory Inc. v. Deposition Sciences Technologies, Inc., involving claims of trade secret misappropriation and breach of fiduciary duty;
Lead trial counsel in 5-week jury trial with favorable verdict in case involving alleged fraud and other business torts in a $400,000,000 real estate development project;
Represented CEO of investment company in SEC/DOJ investigation of insider trading and obstruction of justice in connection with certain trades of a high tech medical research company;
Represented indicted individual in connection with extradition and trial proceedings involving allegations of investment and tax fraud by chief financial officer, resulting in dismissal of indictment as to individual client;
Represented executive of film and video company in defense against charges of embezzlement and fraud;
Provided analysis and advice to numerous clients concerning antitrust implications of certain sales strategies and concerted activities;
Represented foreign companies in connection with class action litigation brought in California alleging price fixing in certain rubber chemicals, plastic additives, and copper pipe industries, as well as with regard to alleged worldwide market division in a food and pharmaceuticals additive industry;
Represented Sybase, Inc. in jury trial involving allegations of breach of fiduciary duty and contract terms.
Department of Justice Experience
Antitrust Division
First as a trial attorney, and then as Assistant Chief of the San Francisco Office of the Antitrust Division, Buck handled a wide range of significant federal antitrust cases and supervised others. He was trial counsel in a large oil industry divestiture case, winning the largest divestiture that the Department of Justice had ever achieved in a contested trial. Later, he was lead trial counsel for the government in criminal trials of bid rigging and price fixing cases in other industries and was promoted to Assistant Chief of the office.
U.S. Attorney's Office
After winning several jury trials in the antitrust field, Buck was hired by the San Francisco United States Attorney to handle complex criminal conspiracy cases, such as large business frauds, international counterfeiting, international drug cartels, and national security espionage cases. As part of the Special Prosecutions Unit, he tried over 30 jury trials and was chosen by the Department of Justice Internal Security Section in Washington to handle the most important prosecution then being pursued by the Department of Justice, an internationally significant espionage case involving the John Walker spy ring, which sold U.S. military secrets to the Soviet Union for over 18 years. Buck was the lead trial attorney in the four-month jury trial, which ended in a conviction on all counts and resulted in Buck receiving a personal commendation from the Attorney General of the United States for his outstanding performance in obtaining the conviction in a nationally important prosecution.
Kroll Associates
After leaving Department of Justice employment, Buck was a Managing Director and Senior Counsel of Kroll Associates in San Francisco. As such, he supervised various international corporation investigations.