Practice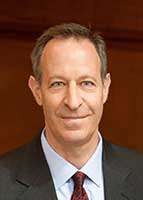 David Brownstein has over twenty years of experience litigating antitrust matters, class actions, and business disputes in federal and state courts and in administrative forums. He has represented companies in a broad spectrum of industries, including traditional manufacturing, professional services, utilities, semiconductor manufacturing, banking, and payment processing companies. He has litigated business torts, antitrust claims, consumer class actions, and tax cases, among many other types of litigation.
Prior to forming Farmer Brownstein Jaeger, David practiced for 19 years with Heller Ehrman LLP as a Shareholder, and served as Managing Shareholder of the San Francisco office of Heller Ehrman from 2000 through 2003, and was a Partner at Orrick, Herrington, & Sutcliffe from 2008 until 2012.
David has been selected as a 2013 Northern California Super Lawyer in the field of antitrust litigation.
Antitrust Experience and Representative Engagements
David has extensive experience representing companies in antitrust litigation. He has played leading roles in high-stakes monopolization, tying, cartel, and group-boycott cases. He has represented several Taiwanese manufacturers in multi-district, class action, and opt-out cases, and in governmental investigations regarding alleged cartel activity. Many of the cases he has worked on were significant matters.
David has represented clients in the following matters, among others:
In re: TFT-LCD (Flat Panel) Antitrust Litigation: Representing manufacturer of LCD panels in multi-district litigation.
Aftermarket Automotive Lighting Products: Represented manufacturer of aftermarket auto lights in Grand Jury investigation, multi-district class action litigation, and competitor litigation.
In The Matter Of CERTAIN SEMICONDUCTOR INTEGRATED CIRCUITS USING TUNGSTEN METALLIZATION AND PRODUCTS CONTAINING SAME, United States International Trade Commission Investigation No. 337-TA-648: Represent manufacturer of integrated circuits in ITC investigation and parallel patent infringement litigation.
In re DYNAMIC RANDOM ACCESS MEMORY (DRAM) ANTITRUST LITIGATION; In re STATIC RANDOM ACCESS MEMORY (SRAM) ANTITRUST LITIGATION; In re FLASH MEMORY ANTITRUST LITIGATION: Represent manufacturer of computer chips in defense of antitrust actions brought by direct and indirect purchasers, over 40 states, and individual actions regarding three different classes of computer memory chips.
In re Visa Check/MasterMoney Antitrust Litigation: Member of the trial team representing Visa in the largest antitrust class-action matter in history, brought by major retailers against Visa U.S.A. and MasterCard.
Represented medical association in civil litigation regarding alleged group boycott of medical insurance plan.
Represented PG&E in defense of federal antitrust price-fixing action brought in the natural gas transportation and sales markets in the wake of state and federal deregulation.
Lead counsel for GlobalNetExhange in defense of business tort case. Obtained dismissal of matter with prejudice. Dismissal upheld on appeal; SourcingLink.net v. Oracle Corp. et al. Case No. 046684, 4th Appellate District, California.
Defense of institutions in audits and investigations being conducted by the California Franchise Tax Board in connection with alleged tax shelter-related activity.
Defended WorldCom in a state-wide consumer-practices lawsuit brought in Superior Court by the State Attorney General and California Public Utilities Commission.
Lead counsel defending Blue Cross of California against claims by advocacy organization that it improperly paid income taxes. Obtained dismissal with prejudice in Superior Court of California, Los Angeles. Appeal dismissed: Foundation for Taxpayer and Consumer Rights v. State Board of Equalization (Real Party in Interest Blue Cross of California). Case No. BC 324947, 2nd Appellate District, California.
Defended several telecommunications carriers in cramming and/or slamming actions before the California Public Utilities Commission in trial and appellate proceedings.
Represented foreign conglomerate in extended federal court proceedings regarding the theft of trade secrets for microwave technology used in radar jammers and F-16 aircraft.
Defended Mexican government (Banco de Mexico) in putative class action by former guest workers for allegedly failing to pay wage withholdings due.