Practice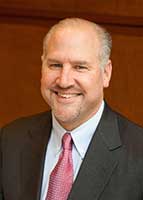 Chuck Jaeger has over 25 years of experience litigating complex business disputes. He has won many cases for plaintiff and defendant clients alike, in a wide variety of settings. Chuck's practice includes difficult corporate and partnership governance issues, fiduciary duty and business tort claims, securities litigation, accountants' liability claims and business valuations. He also represents firms and individuals in investigations and regulatory proceedings, and has conducted internal investigations for corporate boards of directors.
Chuck has won trials before juries, judges and arbitrators. He is admitted to practice in California and New York, and appears in state and federal courts across the country. Chuck's cases have involved numerous industries, including advertising and media, agriculture, banking, construction, energy, health care, insurance, internet services, multi-level marketing, real estate, semiconductor equipment, surgical equipment, and telecommunications.
Prior to joining Farmer Brownstein Jaeger & Goldstein, Chuck was a partner with Gibson Dunn & Crutcher LLP. Before that, he was a partner with Heller, Ehrman, White & McAuliffe LLP, where he served as co-chair of the Securities Litigation national practice group and co-chair of the San Francisco litigation department. Before his legal career, he worked for several years as a certified public accountant.
Mr. Jaeger received his law degree from the University of California-Berkeley, Boalt Hall School of Law in 1989, and served as a law clerk for the Honorable Wade Brorby of the U.S. Court of Appeals for the Tenth Circuit for the 1989-1990 term.
Representative Matters:
Obtained summary judgment on behalf of defendant tomato processor facing eight-figure claims brought by competitor under the Sherman Act and RICO.  See Morning Star Packing Co. v. SK Foods, L.P., 2017 U.S. Dist. LEXIS 91831 (E.D. Cal. 2017).
Obtained multi-million dollar settlement for plaintiff minority shareholders after bringing dissenters' rights action to determine fair market value of private company shares under California Corporations Code Section 1301.
Won judgment for more than $30 million against Japanese company in San Francisco action to enforce "put" rights of minority shareholders in a privately-held surgical equipment company. Disputed issues included the status and value of manufacturing and distribution licenses for certain products. Tried these issues and the valuation of the company before arbitrator.
Represented private corporation in San Francisco state court trial to determine the composition of the board of directors and ownership of company shares. Developed aggressive strategy for bringing suit in San Francisco, where case and related counter-suits were tried to a successful outcome before the court.
Lead counsel for life sciences venture investor and minority shareholder in dispute concerning governance of privately held company. Brought action against majority shareholder and directors alleging that defendants breached fiduciary duties by driving the company into bankruptcy in order to extract disproportionate value for themselves.
Defended audit firm in San Francisco state court action brought by European bank seeking recovery for $200 million in losses on loans made to California fruit and nuts producer. Developed powerful evidence of the bank admitting its own responsibility for the losses, which forced settlement on very favorable terms.
Defended audit firm in the AOL Time Warner securities litigation in the Southern District of New York and several state courts (including California, Ohio and Alaska), in case relating to AOL's accounting for online advertising revenues both before and after its merger with Time Warner. On motion, federal opt-out claims were dismissed without leave to amend for, among other things, failure to plead loss causation.
Lead counsel in multi-faceted real estate dispute in Los Angeles state courts. Successfully pursued affirmative claims on behalf of partnership and defended derivative and direct claims. On motion, obtained dismissal with prejudice of the derivative and direct claims for plaintiffs' failure to adequately plead demand futility.
Retained as lead counsel for institutional investment manager to bring and coordinate multiple actions across California relating to under-performing real estate development projects. After aggressive litigation, all matters were resolved on favorable terms for investing partnerships.
Defended audit firm against federal and state securities law claims in Northern California federal and state courts relating to a public company in the paging industry. Obtained dismissal of several claims at the pleading stage on the ground that the auditor owed no duty to report the allegedly misleading information. After winning significant motions in limine in the first days of trial, plaintiffs dropped their $100 million claims with no settlement payment of any kind.
Represented Italian audit firm in multi-district litigation in the Southern District of New York relating to the collapse of Parmalat, the international dairy conglomerate. Primary case was resolved on favorable terms after substantial international discovery.
Performed special investigation for committee of the board of directors of PurchasePro.com, a public business-to-business internet company. See U.S. v. Johnson, 2008 WL 2060597 (E.D. Va., May 15, 2008).